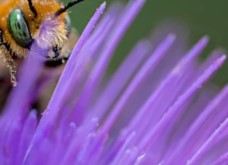 Bees are being used for pollination in agriculture starting from honey extraction. Bees are kept and preserved artificially in different parts of the world. Bees are also affected by various diseases. It also results in death. The United States government has approved the use of the world's first vaccine for bees to protect against these. Which will protect bees from various deadly diseases including foulbrood. At the same time, the vaccine has raised new hopes against other bee diseases.
According to a report by The Guardian, the US Department of Agriculture (USDA) has conditionally approved the use of this vaccine to protect bees from foulbrood disease.
US biotech company Dalan Animal Health has developed this vaccine specifically for bees.
Annette Kleiser, chief executive of Dalan Animal Health, said: "Our vaccine is a breakthrough in protecting bees. We are ready to make some changes in the care of insects. We want to show it to the world. which affects food production all over the world.
Bees are commonly affected by a variety of bacteria, fungi and parasites. In addition, mature bees can be affected by various diseases including acarine, dysentery, foulbrood, decay and fungus. Foulbrood is one of the most dangerous diseases among them.
Another name for American fowlbrood is closed brood fowlbrood. Which is the most dangerous species for bees.
The Guardian report also said that initially commercial beekeepers will be allowed to use the vaccine. which will protect bees from foulbrood and the bacteria Paenibacillus. There is currently no cure for the disease, which has been found in a quarter of bee hives in the United States.
Any infected bees must be destroyed and burned to prevent this disease. At the same time, experts have suggested the use of vaccines and antibiotics.
Keith Delaplaine, an entomologist at the University of Georgia, worked with Dalan Animal Health to develop the vaccine. He said the vaccine will protect the bees from the bacteria. Also protects against foulbrood attacks. At the same time will reduce the death rate of bees.
American foulbrood first appeared in the United States. Then it spread all over the world. Vaccine company Dalan says the vaccine success will help find drugs for other bee diseases. Like the European version of foulbrood.