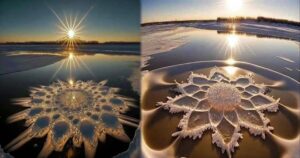 Even today nature continues to amaze man. Recently, such a wonderful picture was shared on the Internet by the former diplomat of Norway, Erik Solheim. The photo is a view of the Songhua River in Northeast China. What Eric describes as a 'flower of ice'.
In the picture, it is seen that the bright sunlight has fallen on the water of the river. The sun's rays are reflected on the transparent ice, creating flower-like shapes. An understatement. Anyone who sees this picture will be impressed. The formation of such 'snowflakes' is entirely dependent on meteorological conditions.
Such a layer of ice usually forms on herbaceous plants. The best time to make this type of snow flower is late fall or early winter. Temperatures drop below freezing in large parts of China at that time. Ice blooms form at this temperature.
Niagara Falls has recently frozen. Most of the water of this world-famous waterfall freezes and forms a wonderful sight. Eric Solheim occasionally takes pictures of nature's wonders and posts them on social media. A few days ago he took stunning pictures of Spiti Valley in Himachal Pradesh.
Images captured by drone cameras captured the vast valley. Eric Solheim compared the Spiti Valley to Mars for its red color. In the caption of the picture, he wrote, Journey to Mars. Spiti, Himachal Pradesh. Incredible India.