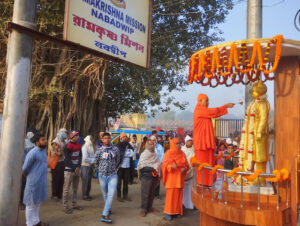 On the occasion of Swami Vivekananda's 161st birth anniversary in Sara Deshjur at Nabadwip town in Nadia
Swami Vivekananda's 161st auspicious birthday and National Youth Day celebrations began at Ramakrishna Mission, Nabadwip Branch. On January 12th morning at 6:33:33 AM on his auspicious birthday mangalshankhadbhani was played. Then the colorful procession started at eight in the morning. More than seven hundred Swami Vivekananda devotees students, NCC cadets and common people toured Nabadwip town with pictures, tableaus, statues of Swamiji. The president of Navadwip branch of the mission Dr. Shiharan Chakraborty, vice-president Sabyasachi Mandal, co-editor Sandeep Pal, treasurer Vidyut Mandal, spokesperson Prithveesh Bal and others were present.
Branch Secretary Swami Amareshwarananda garlanded the statue of Swami Vivekananda in front of the Mission and in Radhabazar Park. On this occasion, a ballad of Howrah's Shyama Cultural Unit was performed in the evening. Swamiji will be remembered throughout the week through special talks, cultural competitions and youth meetings, the mission said.