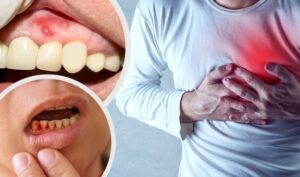 Almost everyone suffers from various gum problems. Periodontitis, a type of gum disease, can cause problems such as bad breath and bleeding teeth.
But you will be surprised to know that due to gum disease, heart problems can also occur. A new study claims so. Therefore, not only diet or physical exercise, you should also pay attention to the health of the gums.
Researchers have reported this in a study published in Clinical Physiology. According to them, periodontitis is associated with cardiac fibrosis. It is a problem that causes an irregular heartbeat.
According to Professor Shunsuke Miyauchi of Hiroshima University, one of the members of the research team, periodontitis causes inflammation over a long period of time. This inflammation is what causes fibrosis.
Professor Shunsuke Miyauchi said this gum disease causes atrial fibrosis. A review of various patient histories has revealed a relationship between periodontitis and atrial fibrosis.
The more severe the gum disease, the worse the fibrosis in the heart. Researchers have claimed from this incident that there is a relationship between gum problems and heart disease.
Ukiko Nakano, a researcher at Hiroshima University's Graduate School of Biomedical and Health Sciences, also agreed with this study.
According to him, studies have shown that periodontitis can accelerate the development of atrial fibrosis.
As suggested by the researchers, lifestyle changes should be made to prevent heart disease. In addition to proper eating and drinking, exercise and weight control, you should also take care of your gums. Also, smoking and drinking habits should be avoided.