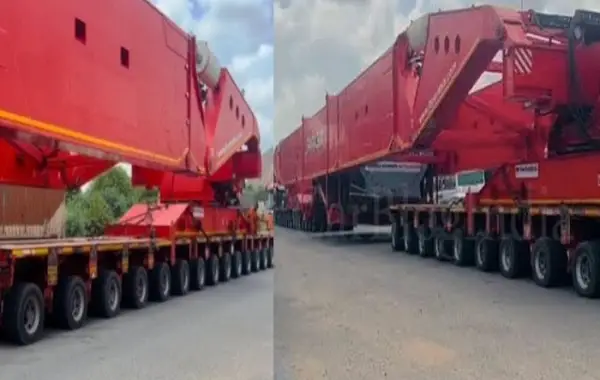 People rent trucks for various reasons. These trucks are small and big depending on the need. Such as garbage trucks, fire fighting trucks, trucks for transporting large iron etc. However, various oversized lorries or trucks are used for cargo transportation. In most cases these trucks are in good shape.
But have you ever seen a truck with 300 wheels? An Indian YouTuber named Kusum Gowat showed the scene of this truck on his channel. When the YouTuber inquired about the details and features of this massive trailer, he learned that the machine is actually a piece of equipment used to generate electricity. It is being transported from Haridwar in India to a place called Kandla Port in Gujarat.
There are 28 workers in this truck to deliver to the destination. Not only this, this truck has 300 wheels. Being monstrous in size and weight, the truck needs 4 liters of fuel to travel 1 km. This truck is basically divided into three parts for road transport. The truck is attached to the machine in the first and last part.
The driver of the truck said that it takes about 4 kilometers to stop the truck after taking off the foot from the accelerator. This truck consists of 6 trailers.
This type of truck or machine carrier is generally rare in South Asia. While many call this giant trailer the world's longest truck, there is another truck that will make you cringe. This is 'The Cantiped' in Australia.